Swing over bed:Φ1600mm

Maximun turning diameter:Φ500-1600mm

Span of guideway:1450mm

Spindle bore:Φ100mm

Manual 4-jaw chuck:Φ1000mm

Machine weight:30500/31500/33500Kg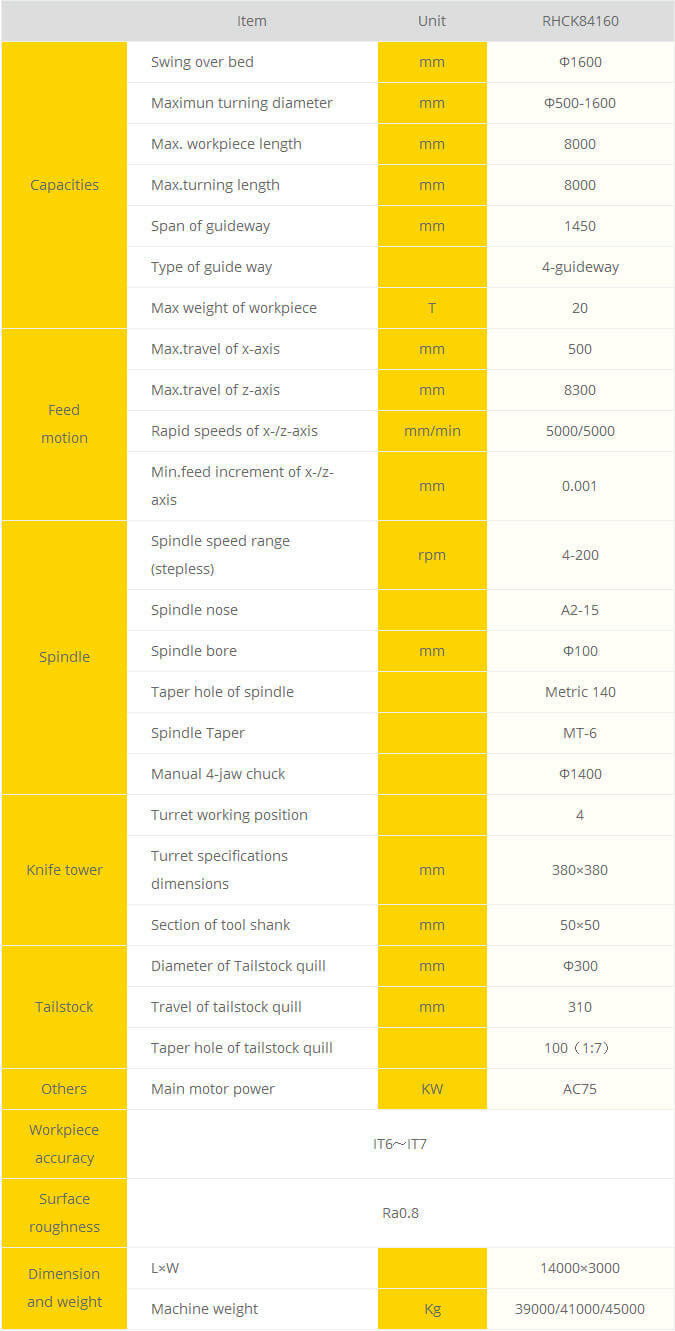 RHCK84 series CNC roll lathe is a high-precision, high rigidity, four guide rails CNC roll lathe which is independent research and development by our company according to the market requirment. It is suitable for machining all kinds of very hard material rolls, such as high-speed steel, high boron steel, tungsten carbide, high nickel chromium and ductile iron. Suit for the machining inner and outer circle, tapered surface, end face of various kinds of mill roll, shaft, thread and other parts. Widely used in steel mill, coal mine, chemical, automotive, petroleum, military and other industries.
1、SIEMENS CNC control system;
2、Spindle box with precision spindle unit, life-free maintenance;
3、The feed system is driven by a high precision ball screw direct servo motor, guide rail with rectangular hard rail or heavy-duty linear guide, with imported ball screw bearings, high rigidity, high precision, fast response, suitable for high-speed, high-precision Turning;
4、Tailstock with built-in rotary top, to improve the tailstock rigidity and machining accuracy;
5、Hard track surface using laser heat treatment, increase its hardness, wear resistance, extend the service life;
6、 Electrical components are mainly imported brand products, electrical box standard air conditioning;